---
Policy Health & Safety, Environment, Quality (HSEQ)
---
---
Ergonomia SA, having the first permit in Greece for providing external services on protection and prevention of occupational risk, has defined the vision of its founder as its strategic direction: the prevention of occupational and industrial risk by:
providing exemplary ergonomic solutions, occupational safety and health services, as well as environmental protection services, that:
at least comply with the applicable laws and reasonable customer requirements;
enjoy greater recognition by the competent authorities, the market and the relevant experts;
are set as a positive benchmark for other similar services in Greece,
ensure the protection of the environment,
prohibiting discrimination and forced labor, providing any interested party with the means for communicating any grievance or complaint, both in the Εrgonomia SA premises as well as during the presence of its employees and associates in the premises of other enterprises.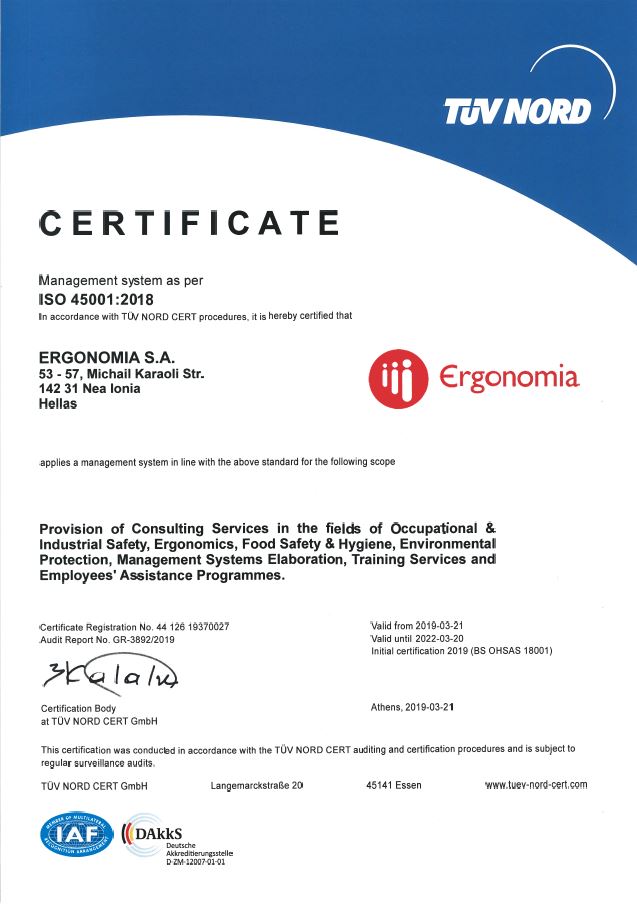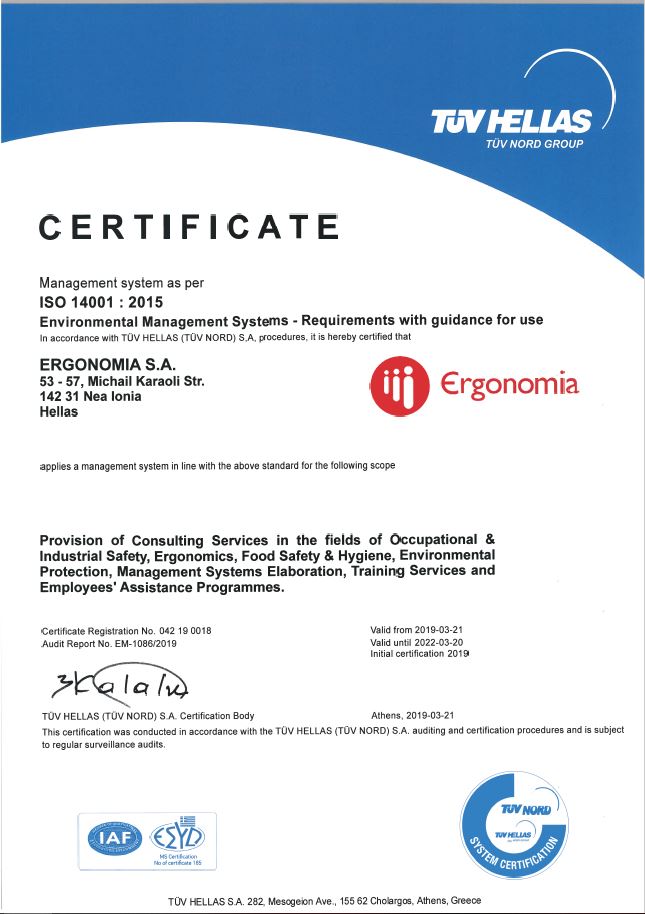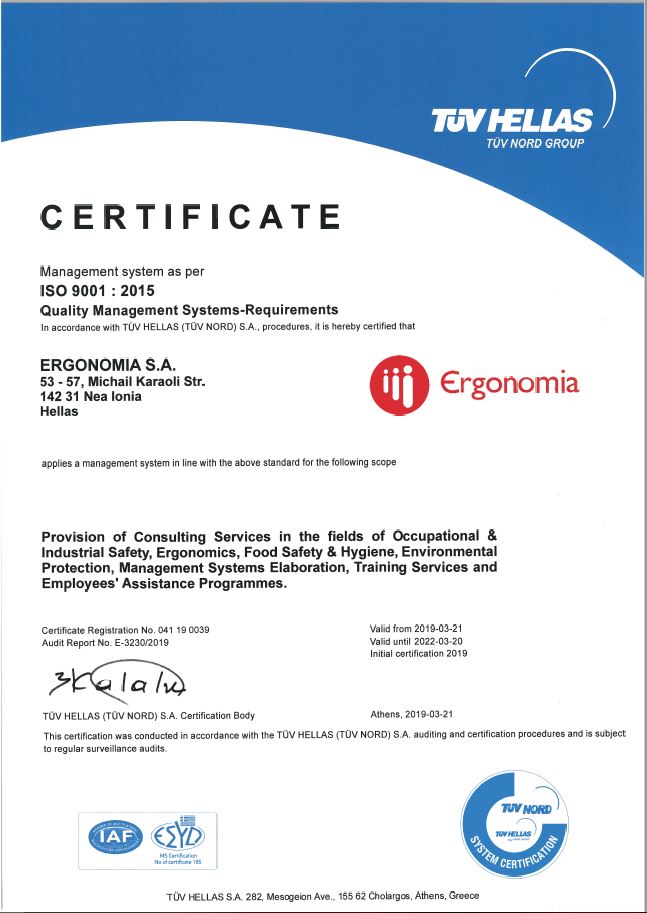 In order to effectively consult and support its clients in accordance with the above strategy and operational framework, Ergonomia SA sets as its key objectives in the context of (a) quality assurance for the services provided, (b) treatment of its significant environmental aspects and (c) the provision of safe and healthy working conditions to prevent injury and ill health related to work, and is committed to:
closely monitor and adapt to international and national changes in legislation and worldwide best practices related to its activity;
employ dedicated, experienced and accomplished executives,
educate, support, evaluate and reward continuously its partners and employees, encouraging their consultation and active participation;
continuously invest in human resources and infrastructure;
consider the specific nature of the occupational health and safety risks and opportunities it faces, also by encouraging and supporting the collaboration with other occupational groups in composite working environments.
Ergonomia SA management is committed to allocate all the necessary resources for the achievement of its objectives and the continuous improvement of the Management System (MS) that Ergonomia has established, currently implements and maintains, in compliance with ISO 9001:2015, ISO 45001:2018 and ΙSO 14001:2015, in order to improve its environmental performance, while improving the level of workers' protection against occupational and industrial hazards. Improvement of the MS is based on respecting the employees and associates of Ergonomia SA, its customers, the community and the environment.
One of the basic principles of the company is its focus on the customer, so the MS has been developed in order to ensure satisfaction of reasonable customer requirements. The level of customer satisfaction is a permanent point of improvement.
This policy statement for occupational health & safety, environmental aspects and quality has been established, implemented and maintained under the care of Ergonomia's management and in compliance with the applicable MS requirements.
For the management
Ilias Banoutsos