According to current Greek and European legislation, initial and periodic inspections of an electrical installation in accordance with Local wiring regulations are required.
Initial inspections are required to be performed prior to energizing the installation for the first time, or after major modifications have been performed. The frequency of periodic inspection depends upon the nature of the installation.
Periodical inspections constitute a valuable tool for ensuring the protection of people and property from the inherent dangers of electricity. Through these inspections, dangerous oversights, bad practices and failures of various components in the installation are detected (e.g. Discontinuities of protective conductors, insulation faults, failed RCD's etc.), thus reducing the risk of electrocution or electrical fire.
One of the methods applied during periodical inspections is thermal imaging, performed by certified Level 1 Thermographer.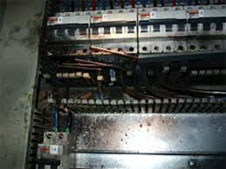 The Electrical Safety Section of the Industrial Safety Dpt. of Ergonomia provides the following services:
Inspection and testing of electrical installations in accordance with current wiring regulations.
Installation audit and gap analysis.
Issuing of electrical installation inspection certificate by a licensed electrical engineer in accordance with the requirements of Greek Legislation.
According to Greek & EU Legislation (Directive 2006/123/EC), the person issuing the electrical installation inspection certificate is obliged to be covered by professional liability insurance appropriate to the nature and extent of the risk. Ergonomia is insured by Lloyd's against such liability.
It is mandatory for up to date drawings and schematics of the electrical installation to accompany the electrical installation certificate. These include:
Overall schematic of the electrical installation.
One line drawing of all electrical distribution boards of the installation.
Moreover, up to date drawings protect employees, particularly maintenance personnel from the dangers of unintended energization and make maintenance activities easier and faster.
The Electrical Safety Section of the Industrial Safety Dpt. of Ergonomia can provide drafting of new electrical installation schematics and distribution panel single or multiline drawings or the updating of existing ones.


According to EU and Greek regulations on explosion protection in hazardous areas, the use of explosion proof (Ex) electrical equipment is mandatory. In order to ensure and maintain a steady level of protection throughout the equipment's life, initial and periodical inspections of the equipment need to be performed. These inspections are to be performed in accordance with the requirements set out in the European Harmonized Standards EN 60079-14 and EN 60079-17, by competent personnel.
Ergonomia Industrial Safety Dpt. alongside with its extensive experience in explosion prevention and protection, cooperates with DeltaTech Industrial Engineering in providing certified (CompEx) personnel for the design, selection, inspection and maintenance of explosion proof electrical installations in accordance with the European Harmonized Standards EN 60079-14 and EN 60079-17.
The Electrical Safety Section of the Industrial Safety Dpt. of Ergonomia provides the following services:
Hazardous area electrical equipment inspection performed by certified personnel.
Documentation of inspections according to protection Scheme using EN 60079-17 inspection methodology.
Proposal of corrective measures following current Standards and industry best practices.
"Inspections take less time than repairs"
Thermal Imaging is one of the safest and most effective tools used for preventive maintenance on mechanical and electrical systems. It provides non-contact, non-obtrusive detection of defective equipment through visual verification of abnormal temperature rise, accompanied from accurate temperature readings.
"Dependability can be engineered and built into equipment, but effective maintenance is required to keep it dependable"
The heat spreading patterns, detected from an infrared camera can reveal every one of the multiple modes of failures that industrial equipment may present, reducing the down time caused by such failures and increasing overall safety by ensuring reliability. Further documenting the equipment's thermal trends can lead to quick identification of unusual readings for further inspection.
"Safe work conditions in every key area"
Infrared cameras can locate and identify problems in the following key areas:
Electrical: Loose, over-tight, corroded connections, faulty switchgear assemblies, damaged insulators, supports and connectors, stationary battery strings and chargers, etc.
Motors: Motor and shaft bearings, impending bearing failures, shaft coupling problems, poor lubrication, gasket failures, gearboxes, drive belts, etc.
Pumps, fans and compressors: Bearings, seals, shaft couplings, drive belts and sheaves, leakages.
Buildings: Bearing structure elements, walls, ceilings, openings, insulation elements, HVAC systems, etc.
"Reducing equipment failures and unscheduled plant shutdowns"
Infrared thermography as a part of a preventive maintenance program is applied in new installations or already existing ones, due to changes in their operational or load conditions, environmental changes or due to loss experience. The main benefits comprise of:
Asset protection, well maintained equipment lasts longer and performs better.
Risk management, a preventive maintenance program protects against accidents, lost production and loss of profit through timely identification of every possible piece of defective equipment.
Energy conservation, equipment that is properly maintained and guarded against malfunction operates more efficiently, utilizing less energy.
Increased uptime and profitability, good maintenance practices lead to reduced interruption of production, better workmanship, and increased productivity.
Reduced absenteeism, problem free operation leads to improved employee morale.
Reduction in insurance costs, well maintained and in proper working order equipment is far less likely to present any form of malfunction.